Lunch Actually Reviews 2019 – Do not join until you read this
---
First of all, congratulations on taking the first step!
You might be contemplating on what is Lunch Actually all about which probably encouraged you to read up on Lunch Actually Reviews 2019. Whether or not you decide to sign up with Lunch Actually, you have signed up to take charge of your love life, so kudos to you!
Lunch Actually was started by Violet Lim and her husband. It first launched in 2004 and since then Lunch Actually has been helping many singles find their soulmates. Now the happy couples talk about how their lives changed over ONE lunch.
Since you might have questions and curiosity on how Lunch Actually works, we decided to shed some light through Lunch Actually Reviews 2019 on the steps:
The Interview
The Screening
Finding Compatible Profiles
Date Is Set
Feedback
Lunch Actually also caters to other services such as Date Coaching as well as Image Consulting. In these services, our consultants or should I say YOUR personal cupids, will take you for a personal shopping session and also walk you through your date, should you be nervous or unclear on what to expect.
For a better understanding of the process, why don't you read the reviews of people who tried Lunch Actually first hand.
Celestine first heard about Lunch Actually when she did an interview with Violet Lim on dating tips for singles. She decided to try Lunch Actually because although Lunch Actually was making its name in most places, there wasn't much review to go about in terms of the process and the consultation. Celestine decided to take the matter into her own hands and find out for herself.
" The funny thing is, meeting compatible people is something that many singles think about…"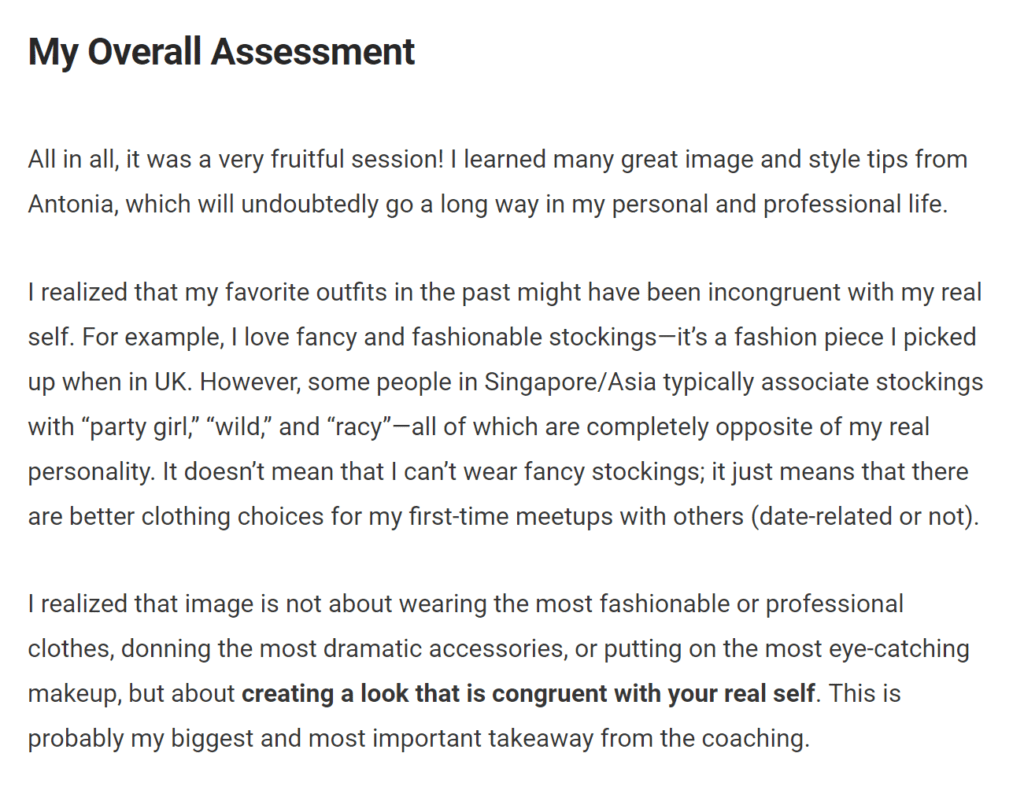 "I realized that image is not about wearing the most fashionable or professional clothes, donning the most dramatic accessories, or putting on the most eye-catching makeup, but about creating a look that is congruent with your real self."
Celestine may have learned things about her as a person in the process of finding someone. She eventually found her partner who turned out to be a friend, however,she got to know the most important person there is to know, herself. You can read the detailed story on Celestine's journey here.
Apart from Celestine, another curious mind that gave us a try was Irene Moon Santoso. She is famously known as THE MOONBERRY BLOG.
Irene has made her mark in the lifestyle world and is one of the most successful bloggers known in Asia. She had an interesting take and understanding on how Lunch Actually represents itself to clients.
"One of my friends recently remarked, "The best way to meet a potential someone is still through introduction by a mutual friend. That way the mutual friend can vouch whether that person is legit or not, so you don't end up wasting time". And that's exactly what Lunch Actually does. Their friendly dating consultants pre-screen every candidate who may potentially be a match for you."
As a matter of fact, Lunch Actually IS like a mutual friend that matches you with the most suitable partner that we know. With someone who already understands the nature of what we do, Irene was a very good team player which made the entire process (as shown below) more fun and interesting.
Like our other clients, Irene too went through an extensive interview. You can read more on Irene's review on Lunch Actually and her journey here.
Our third eligible lady that tried Lunch Actually and it's services is Cheryl Tay. Cheryl is blogger on motorsport and fitness. Yup! She decided to take on the adventure with Lunch Actually and signed up for a blind date. Here's her initial thought before venturing into the journey.
"I wanted to find out for myself how these agencies work and getting to personally experience it is the best way – since I'm single anyway."
After the process, Cheryl had a date set-up for her!
Personally, I loved the way Cheryl narrated the whole date. Her match seemed like a catch too but so are all our approved clients. You can read more on Cheryl's date here.
Many people found happiness through Lunch Actually, if you're having second thoughts, ask yourself this:
How far would you go to #makelovehappen?

You don't have to decide at the end of this article.
Come in for a FREE consultation with our consultants and see if this would be something for you. At least it's a decision you made from your own judgement instead of stereotype. Our consultants are always there to walk you through the process and help you find happiness. Hope this read on Lunch Actually Reviews 2019 helped!

---
Recommended posts